Cashback and discounts at Papa John's
This shop offers cashback, plus extra discounts
1 acties
Papa John's has over 230 UK stores delivering delicious pizzas and incredible offers to customers across the country.
It's time to meet The Papa! John Schnatter founded Papa John's in 1984, exchanging his beloved Camaro for a dough mixer and pizza oven and dedicating himself to making quality pizzas from 100% fresh dough. The 'Better Ingredients. Better Pizza.' philosophy is still going strong today, and with 4,000 stores across the world, creating the third biggest global pizza chain.
Discounts and Discount Codes for Papa John's
0.50% CashCoins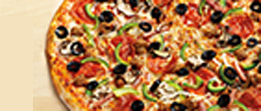 Get 30% off Pizzas when you spend £30+ at Papa Johns
This offer has expired
Go to offer
Papa John's

Reviews
mmachova81@gmail.com Germain | 01/11/18 20:02:36 | Store rating :

Papa John's pizza is very well situated restaurant and take away.It have massive choice of food varieties from young kids to Older generation.Its very homely and friendly atmosphere in there.Always like to leave a tip.love it in there..
Melis | 10/11/18 23:25:59 | Store rating :

Lovely nice food spot on everytime and the special offers that they have going aswell really helps and the quality is really outstanding also with other members with them getting rewards aswell Papa johns
Steve Simple | 11/11/18 00:21:12 | Store rating :

A great name in Pizzas which are a speciality. Savoury tastes from vegetables from all over the world are used in making one of the tastiest pizzas in the world. Also Papa Johns is a family friendly company. Highly recommended.