SALES! Cyber Weekend Starts Tomorrow!
26/11/2015
Ladies! Grab your Christmas bargains with Cyber Weekend, it starts tomorrow! There will be massive sales online across all of our stores, remember that on top of the massive sales event you will also recieve CashBack on purchases! Savings and CashCoin rewards... You can´t get much better than that!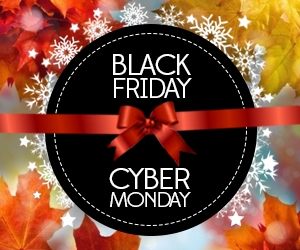 Starting tomorrow: Black Friday
Cyber Weekend starts tomorrow (27th Nov 2015) with Black Friday, the day where shopping takes top priority for all the right reasons! Bargain hunters across the UK and around the world, try to grab themselves a great deal heading into the festive period.
Cyber Weekend
Almost all online retailers take the oportunity to offer massive savings and discounts (with cashback) thoughout the weekend, hence the well fitting name Cyber Weekend.
Finishing on Cyber Monday
Cyber Monday (30th Nov 2015) falls annually on the day after the American event Thanksgiving and is a 24-hour period which sees retailers dramatically discount their products in anticipation of shoppers hoping to snatch last minute bargains ahead of Christmas. Furthermore you can get CashBack on purchases so you´ll be winning on all fronts!
Our Top 5 Cyber Weekend Retailers
1. Samsung online only - check out the best Samsung Cyber Weekend deals
2. Currys in stores and online- check out the best Currys Cyber Weekend deals
3. Microsoft in stores and online- check out the best Debenhams Cyber Weekend deals
4. Marks & Spencer in stores and online- check out the best M&S Cyber Weekend deals
5. Boots in stores and online- check out the best Boots Cyber Weekend deals