BBQ Bites!
02/08/2016
BBQ Bites!
Tis the season to be barbecuing and we wanted to share with you some of our favourite dishes to get those mouths watering and your BBQ sizzling!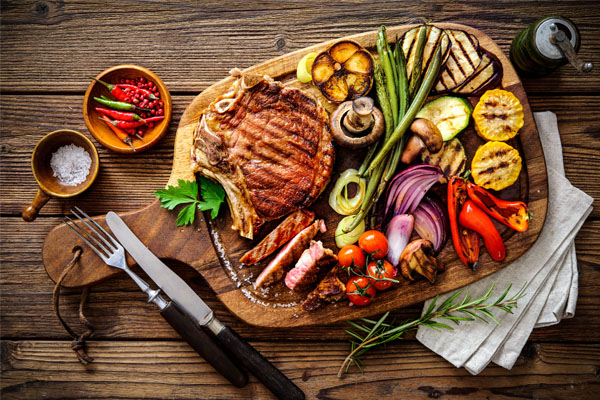 Here are our favourite dishes to include in any summer party you are having!
Yummy burger
1 egg
1 teaspoon mustard (regular or Dijon)
1 teaspoon Worcestershire sauce
1 small onion, finely grated–
1 clove garlic, minced
1⁄2 teaspoon salt
1⁄2 teaspoon pepper
1 lb medium ground beef
Whisk the eggs in a bowl and add all the ingredients except for the beef. Once done crumble in the beef and gently mix together remembering not to mix the meat for too long otherwise it toughens it up. Gently make the burger patties – about ¾ inch thick and slightly rounder than your burger buns. Make a little indention in the middle to prevent the burgers puffing up and place them on the BBQ grill! Cook for about 6-8 minutes per side until no longer pink on the inside.
Delicious Greek salad wraps
2 tablespoons olive oil, divided
1 (8-ounce) package organic tempeh, cut into 24 pieces or falafal
1 cup water
3 tablespoons lemon juice
2 tablespoons plain low-fat yogurt
1 1/2 teaspoons dried Italian seasoning
1 teaspoon grated lemon rind
1/2 teaspoon paprika
1/4 teaspoon salt
1 garlic clove, minced
2/3 cup sliced cherry tomato
2/3 cup sliced English cucumber
1/4 cup (1 ounce) crumbled feta cheese
1/4 teaspoon freshly ground black pepper
4 (8-inch) whole-wheat tortillas
A delicious alternative for vegetarians and really easy to do! Heat the grill and lightly oil before adding the tempeh (or falafel if you can't find tempeh) and cooking until browned all over. Add the water and 2 tbsps of lemon juice to the pan and simmer for 10mins. Mix the remaining ingredients in a bowl except for the yoghurt. Warm the tortillas as directed on the packaging and spread the yoghurt mixture on the tortillas, then add the spinach mixture and on top put the tempeh/falafel. Roll them up and cut in half and eat!
And finish up with a quick&easy blueberry dessert!
flour for the work surface
1 8-ounce sheet frozen puff pastry, thawed
1 large egg, beaten
1 tablespoon granulated sugar–
4 ounces cream cheese, softened
1/4 cup heavy cream
1/2 teaspoon grated lemon zest
3 tablespoons confectioners' sugar
2 cups blueberries
Heat the oven to 190°C and unfold the pastry onto a work surface scoring a border into it without the knife touching the bottom. Brush the border of it with egg and sprinkle with sugar. Bake for 18 minutes until it is golden. Once out re-score the border without cutting through and push down on the middle so that it flattens. Whilst it cools for 20 mins beat the cream cheese until smooth before adding cream, lemon zest and 2 tbspns of sugar. Beat until smooth and spread the mixture in the centre of the puff pastry before adding the blueberries on top, sprinkling sugar on them.
We are definitely hungry after all that – we hope you enjoy it! Below are some useful stores to visit to help you on your BBQ way.
Waterstones for all the best cookery books and further inspiration, Waitrose for quality produce, Coombe Farm Organic for high quality, organic meat and B&Q for the best BBQs around!
Like, share and leave your comments!


The best Cashback offers from this moment:

1.00% CashCoins
B&Q
B&Q is the largest home improvement and garden centre retailer in the UK
Go to offer